Filmmakers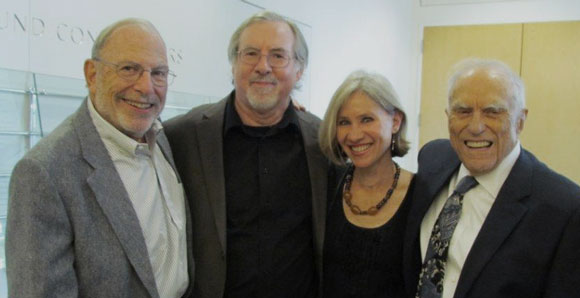 Producers Irv Drasnin, Don Sellers, & Lucy Ostrander with Sid Rittenberg
Irv Drasnin - Producer, Writer, Interviewer, Narrator
Stourwater Pictures was pleased to have had the opportunity to work with Irv Drasnin on THE REVOLUTIONARY. Irv's career in documentary filmmaking and broadcast journalism includes thirty-five years at CBS News and Public Television with extensive experience in China. His thirty documentaries include MISUNDERSTANDING CHINA (1972), SHANGHAI (1974), LOOKING FOR MAO (1983), and CHINA AFTER TIANANMEN (1992). Among his many awards for outstanding documentary film are the DuPont-Columbia Award (twice), the Director's Guild, the Writer's Guild (twice), the American Film and Video Festival (twice) and Christopher awards (twice). Mr. Drasnin holds a Master's degree from Harvard in East Asian Studies with a specialization in China and taught the documentary film program at Stanford (1980-82). He also was a founding member of The China Council of the Asia Society and its co-chairman (1981-83).
Don Sellers - Producer, Director of Photography, Editor
Don Sellers has worked in documentary filmmaking as a producer, director, director of photography, editor, and writer. Documentaries range from nationally broadcast major PBS series, to feature length, to local broadcast. Producer credits range from historical documentaries to docudrama. Have shot in Africa, Europe, Asia and North America covering topics as diverse as meetings between Afrikaners and the ANC in West Africa, horse racing in upstate New York, papal masses at the Vatican, and murder investigations in Miami. Have edited many hour-long Frontlines for PBS, and many documentaries on Pacific Northwest history. Have taught film writing and production as a guest lecturer at Stanford University.
Lucy Ostrander - Producer
Lucy Ostrander, an award–winning documentary filmmaker began to receive accolades for her work with her Masters' thesis from Stanford University, WITNESS TO REVOLUTION: THE STORY OF ANNA LOUISE STRONG. In producing the film, she became the first American student to work with the China Film Co–Production Corporation. The film received a national PBS broadcast, and won a Student Academy Award, the Nissan Focus Award and a CINE Golden Eagle. In 2005 she was a recipient of an Artist Trust Fellowship. Over the course of 25 years, her documentaries have focused primarily on Northwest history and include EAST OF OCCIDENTAL, HOME FROM THE EASTERN SEA, FINDING THEA, THE RED PINES, ISLAND ROOTS, and FUMIKO HAYASHIDA: THE WOMAN BEHIND THE SYMBOL.
Joel Goodman - Music
Joel Goodman has scored over 100 films and television shows for an impressive array of distinguished directors and producers, including Wong Kar-wei, Barbara Kopple, Albert Maysles, Barak Goodman, Kevin Spacey, Irene Taylor Brodsky, Andrew Jarecki, Mark Zwonitzer, Marshall Curry, Oren Jacoby and Michael Epstein. Of these films 4 have received Oscar nominations and dozens of Emmy Awards. Joel's new Main Theme for the top rated PBS series American Experience premiered in 2011. His most recent score is to the theatrical documentary, Being Elmo. For more information, please visit www.joelgoodman.com.
Please don't leave the site without seeing our two-minute trailer by clicking here.